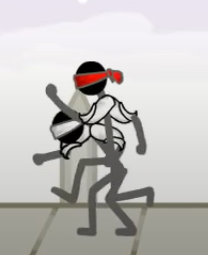 The Blind are the bosses of the third round and the first battle of the Semi-Finals. Given the headbands wrapped over their eyes, it's possible that they are quite literally blind. They are, however, adept at dodging, more so than previous enemies.
Appearance
They appear as black stickmen with white cloth draped over their shoulders and white headbands over their eyes.
The head of the group wears a red headband over his eyes.
Statistics
Numbers
Easy: 2 (Round 3), 4 (Semi-Finals)
Normal: 3 (Round 3), 5 (Semi-Finals)
Pro: 4 (Round 3), 6 (Semi-Finals)
Attack Damage
Music